TRASH COMPACTOR REPAIR LAS VEGAS
You can count on us to quickly repair trash compactor and anywhere in Las Vegas. We specialize in a number of this specific appliance's leading brands and we have many of the needed spare parts on hand in order to help ensure quick same day service. And unlike the other guys, when we have to order parts for those obscure brands that no one carries parts for- we get them overnighted! We will not let trash stink up your home for days on end. You can rest assure that we will take care of your broken appliance fast. We service Summerlin, North Las Vegas, Henderson and also Boulder City. We're open 24/7 so please feel free to call us anytime.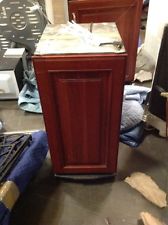 Fast Service
We understand that your trash within your compactor can get smelly and also have the potential for mold. That's why we always offer fast same day service!
Dead Unit
Unlike washers, dryers or refrigerators your trash compactor will not give you a sign that it is about to go out. When it does die, you'll have to call an honest appliance repair pro.
Spare Parts
We have a collection of replacement parts as well as a local distributor who gives us great deals. We can repair your unit quick!
Give us a call today and let EZ Fix repair your trash compactor! We service the ENTIRE Las Vegas Metro area!