24/7 WOLF APPLIANCE REPAIR LAS VEGAS

We are the appliance repair company to call in Las Vegas for repairing Wolf Appliances- we're one of the few companies who can do it! We have a seasoned team of expert repair technicians who specialize in Wolf appliance repair. We repair all makes, models and types of Wolf appliances including commercial appliances. Our repair techs are also licensed to repair gas ovens and other gas powered ranges and stoves. From new Wolf ovens to older freezers- one call will handle it all. Our repair techs are also some of the few in Las Vegas to offer same day repair service for Wolf wine refrigerator repair. Additionally, we're not like the competition where we will make you wait half the day for us to show up and then, wait another couple hours for your repairman to get the replacement part. We often times have many of the necessary replacement parts on our trucks which, helps us to ensure same day service. Our repair techs carry spare parts for many of Wolf's more common parts. Our repair techs service the entire Las Vegas including Henderson and Boulder City as well. We are open 24/7 so please feel free to contact us anytime to schedule an appointment. (702) 761-3130

COOKING TEMPS
If your Wolf oven needs a repair service then trust us to get the job done. We will double and triple check that your Wolf oven is reaching the proper cooking temperature safe for your family.
WOLF APPLIANCES
Whether your Wolf range or double gas oven is not keeping proper temperature- our repair technicians can repair any heating unit. We're the company to call in Las Vegas. Its always an easy fix for us!
WOLF STOVE
Wolf stove repair can be quite difficult especially, if it is a built-in gas unit or set within your kitchen island but, you can trust our expert repairmen to repair your Wolf stove or range. Call anytime.
We Repair ALL Wolf Appliance Models & Types. Give us a call today and let EZ Fix repair your Wolf Appliance!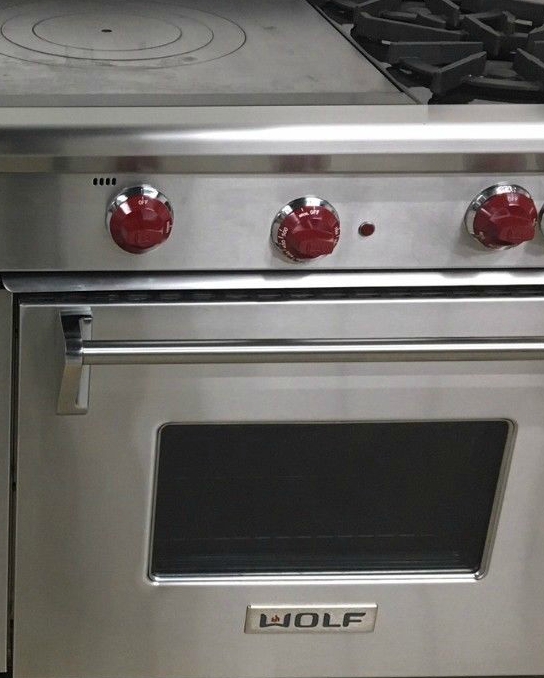 Your Broken Wolf Range or Wolf Oven is Always an EZ Fix for Our Repair Techs like this unit, in Summerlin. We're one of the few companies in Las Vegas with the expertise to repair commercial units.
ECO-FRIENDLY APPLIANCE REPAIR
We repair ALL appliances, unlike many of our local competitors, ONLY the environmentally friendly way. We use ONLY eco-friendly materials and repair methods that are safe for you and your family to be around. Many times we have seen firsthand the local competition in Las Vegas using lead and other toxic materials as cheap soldering and adhesive materials. These materials, are heated when your appliance runs and are very toxic (certain ones can even catch fire). With us, we do not cut any corners to save a few pennies or roll the clock back a few minutes. We are a local family owned business and we also care for the long term safety of our repair technicians as well as our customers. Many of our seasoned repair techs are also certified with the EPA and we go above and beyond the state's minimum laws for safety to ensure only the best service. Wolf is one of the best brands and you should only trust the best for repairing any appliance made by Wolf- but you can trust our master repair pro's.